Everyone thinks of New Jersey as a mecca of liberalism, but, once you get beyond the big cities, the suburbs and boonies tend to be hotbeds of Republicanism, which brings things like this
(NJ.com)  There's a blue line spreading in New Jersey downtowns. It has appeared in the space between the double yellow line running down main streets, in parks and even county roads. Often, it runs right by a police station.

"I see communities start to paint that blue line, and it's a simple thing," Mahwah Mayor Bill Laforet said before the township painted one in front of the police station Wednesday. "It's a chance for the community to say something about how we value the police department."

The trend is especially catching on in Bergen County and other North Jersey communities, but townships and boroughs all around the state are painting the line to show support for police.

As many across the country rush to show their support for police in the wake of shootings targeting officers, the thin blue line is showing up more and more. In addition to paint on the street, it's on T-shirts, wristbands, and flags.

Traditionally, the line represents the role law enforcement serves, standing between law-abiding citizens and the criminal element.

But Rodney J. Sawyer, police chief of Mantua Township in Gloucester County, said the blue line painted in Chestnut Branch Park also stands for camaraderie and unity between officers, among other things.
Some are also adding red lines for fire departments and white for emergency medical technicians.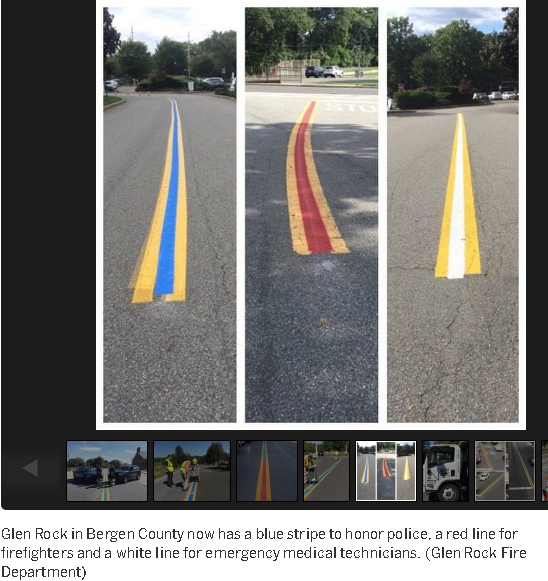 Obviously, some are not happy about this, because they are whiny cop hating bastards, as you can see in the story and the comments. Some are whining about the cost, even though it is minimal to free. I think this is a great idea, and would love to see this spread around the country.

If you liked my post, feel free to subscribe to my rss feeds.