And the law enforcement involved handled this in the correct fashion
(Fox News/AP) The sheriff of a county about 70 miles north of Seattle says a restaurant owner has asked that law enforcement no longer dine there.

Skagit County Sheriff Will Reichardt said on Facebook that after four deputies finished lunch at Lucky's Teriyaki in Sedro-Woolley Thursday, the owner asked them not to eat there anymore.

Reichardt says the deputies were told that customers didn't like law enforcement there. The sheriff says his chief deputy called the owner later Thursday and says the request was confirmed along with a request to spread the word among other law enforcement agencies.
The PD says fine, they'll go elsewhere, but, hey, if the restaurant needs their help, they won't hold a grudge. Because that's their job, and they'll perform it.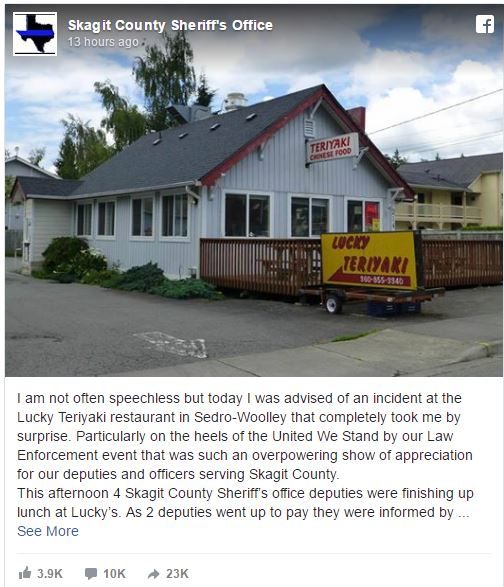 (embedding is not cooperating, you can see the post here)
Here's the wild thing: they did not report Lucky's Teriyaki to the State for discrimination, much like many bakers have been reported for refusing to bake cakes for gay weddings. Rather than forcing Lucky's to serve them, the police just said "OK, sparky, have it your way" and moved on.
Of course, now that this has gone viral, Lucky's might find their customer base shrinking.

If you liked my post, feel free to subscribe to my rss feeds.