The anti-science Warmists are really reaching for the stars with this meme
Ice storm paradox: It's colder because the Earth is warmer

…..

Put very simply, here is what the predominant science says: Average global temperatures have been rising in recent decades. Some of the warming could be part of a natural cycle but, almost certainly, increased levels of CO2 in the atmosphere caused by the burning of fossil fuels are a pivotal factor in intensifying the phenomenon. The starkest evidence of the temperature jump is the rapid melting of the polar ice caps and the disappearance of the world's glaciers.

Climate scientists have said another key signal to watch for is a dramatic shift in weather patterns. It is close to impossible to attribute any single weather event – a snowstorm, a tornado, a hurricane – to temperature rise, but, once extreme weather becomes normal and what has been normal is no longer the norm, we will know we are in the throes of change that is likely irreversible.

It sure looks like that could be where we are now. In just the last couple of years, Americans have experienced epic tornados in the center of the country, a monster storm that flooded Manhattan and ravaged New Jersey, extended drought in the West that threatens agriculture and water supplies, and an unprecedented number of wildfires in forests dried to the flammability of kindling. This winter, frigid polar air has slipped south, freezing much of the country, while in Alaska the season has been unusually warm. There are piles of snow in Atlanta, but a dearth of snow in the Sierra.
I'm not going to provide a deep recitation of just how much is wrong with the excerpt, much less the entire screed. We've been through it time and time again, and the science-challenged Warmists will simply stick with their mindless cult-like dogma. The article even includes this pithy comic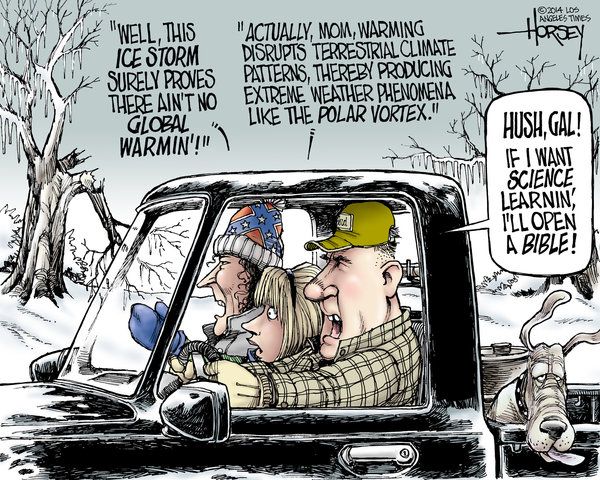 Strange, it's almost like the polar vortex never ever happened before or something. Or, that they blamed global cooling on the polar vortex (which should properly be called the Circumpolar Vortex). But, Warmists aren't interested in science, earth history, real world data and observations, nor reality.
And, just to be clear, not that Warmists will read, comprehend, or listen, the debate is not on warming, but on causation. There has been 1.4F warming since 1850. There has been no statistically significant warming since 1997. The Warmists models have been proven wrong 95% of the time.

If you liked my post, feel free to subscribe to my rss feeds.