It'd be nice if they weren't hot-linking the photo (note: the DU post did not include a link to the story, nor could I find it).
(DU)

Faygo Kid: This is the pic on the front page of The Washington Post tonight. This is our President.

This is why he must win next week.
First, if a Conservative used a name like "Faygo Kid" (think about it), they would be destroyed. Second, does that look like real compassion, or a hug than neither person really wants? Does it look like real compassion? Obama's not a particularly caring person about anyone other than himself and his immediate family. He "doesn't really like other people."
This is what real compassion looks like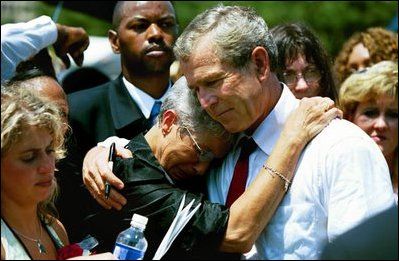 There are many things you can ding W on: fiscal irresponsibility regarding spending, a failure to explain and defend his policies, not getting tough on illegal immigration, but, one can never fault the man for compassion. George Bush genuinely seems to like people, and was never shy about showing that he truly cares. Not as a politician, but, as a person.

If you liked my post, feel free to subscribe to my rss feeds.