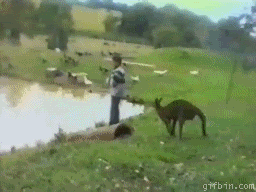 Something lighthearted for a Friday. But, then, perhaps someone needs to do the same for Sarah Palin, who still can't decide, after 3 friggin' years, if she is going to run or not.
"This is a serious decision, and I've engaged in serious deliberations. So within the next 24 hours don't look for me to make a decision," she said, according to excerpts of an interview on Fox Business Network set to air tonight.
Remember when she said she'd have a decision by the end of September? I'm done. I no longer will take her serious as a potential candidate for POTUS. As a pundit, sure thing. Not for POTUS, though.

If you liked my post, feel free to subscribe to my rss feeds.