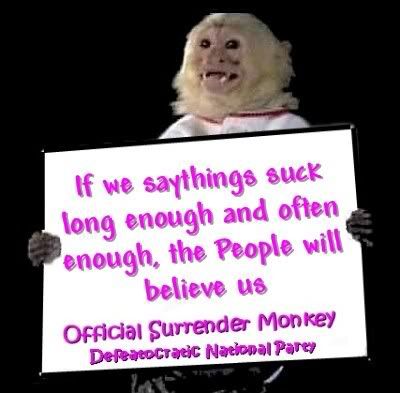 Surrendie is truly happy about the poll that says the People think everything really sucks right now
Americans are more dissatisfied with the country's direction than at any time since the New York Times/CBS News poll began asking about the subject in the early 1990s, according to the latest poll.

In the poll, 81 percent of respondents said they believed "things have pretty seriously gotten off on the wrong track," up from 69 percent a year ago and 35 percent in early 2002.
The question asked was "Do you think things in this country are generally going in the right direction or do you feel that things have pretty seriously gotten off on the wrong track?" I bet the folks at the Times and cBS are partying it up today over this poll, which makes them happen, but, of course, being liberals/progressives, being happy will make them sad.
The dissatisfaction is especially striking because public opinion usually hits its low point only in the months and years after an economic downturn, not at the beginning of one. Today, however, Americans report being deeply worried about the country even though many say their own personal finances are still in fairly good shape.
Face it, the media has been talking about how bad the economy was for years. Despite a great economic upturn after the short recession at the end of the 90's/early 2000's, the media general never said there was anything good. Record jobs growth, GDP doing well, housing was going swimmingly, yet, the drumbeat from the Credentialed Media and the Democrat party was that everything sucks.
But, you know what? The poll may be correct. We have Democrats in Congress trying to constantly surrender in Iraq, reduce our national security, increase taxes, and do all the crazy progressive things they do, and they have a guy who is considered the most liberal Senator for 2007, and who likes to cavort with racists and terrorist, running for President, with a chance to actually win.
And yes, the economy is having a downturn. That happens. Basic economics. But this is why we need John McCain, who is not all about doom and gloom, but about optimism and positive, forward looking policies. Pure and simple.
Oh, and the BDS?
The unhappiness presents clear risks for Republicans in this year's elections, given the continued unpopularity of President Bush.
Earth to cBS/Times: Bush is not running in 2008.

If you liked my post, feel free to subscribe to my rss feeds.