Happy Friday to all! It's that time of the week again! Do you have an interesting post you want to share with everyone? The official Surrender Monkey of the Democratic Party says to do what the Lefties don't, since they all have the same talking points: link it!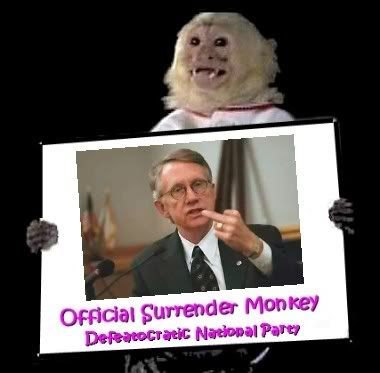 Remember Ted Olson? The Solicitor General, whose wife was killed on the plane that flew into the Pentagon (which is not mentioned till near the end of the story)? Well, as I am sure you know by now that President Bush might nominate him for AG. Which begets
Senate Democrats will block Ted Olson from succeeding Alberto Gonzales as attorney general if President Bush nominates him, Majority Leader Harry Reid said Wednesday.

"Ted Olson will not be confirmed," Reid, D-Nev., said in a written statement. "I intend to do everything I can to prevent him from being confirmed as the next attorney general."
I guess it is only left wing nutjobs who have "absolute moral authority." Reid couldn't even wait for Olson to be nominated before he decided he would smear him.
Democrats, including current Judiciary Committee Chairman Patrick Leahy, indicated they would mount strong challenges to Olson if Bush nominates him. "He is certainly not a consensus nominee," said Sen. Chuck Schumer, D-N.Y. "He has a very political background."
No, someone being appointed to a position like that who is not political? What are the chances! Besides, to the junior Senator from NY, the only consensus nominee would be a liberal.
Of course, nothing like a little Left Wing insanity
Chafing some Democrats are several items on Olson's resume. He represented Paula Jones in her sex harassment suit against President Clinton before making the winning argument before the Supreme Court in the 2000 election.
cBS engages in the Bush stole the 2000 elections a little more clearly
Olson is perhaps best known by the general public as the attorney who represented George W. Bush and Dick Cheney in the Supreme Court case that decided the contested 2000 election, and that does not rest well with Democrats.
BDS! Reid is definately the Surrender Monkey of the Week. But, the entire Democrat Party and their MoveOn kook base come close. They have been exposed as the mean, disgusting people they are, and the Dems are caught in the middle of not being able to stop taking their money, and looking like complete kooks to the country, as the issue went viral. However, it would have been too easy, and would have needed quite a few monkeys for the post!
The Dems could have also made it for their trailer trash behavior during the hearings with General Petraeus, and their continued calls for retreat and defeat. That is kinda the norm with them, of course.

Send a trackback to this post, but don't forget to link it. Otherwise, monkey poop is corrosive!

If you liked my post, feel free to subscribe to my rss feeds.