NOW it is the start of a new work week. Harry Reid has said all is lost, so it is time to take it down a notch, get in the wrong frame of mind for the work week, be prepared to do your least and worst, or at least your bare minimum.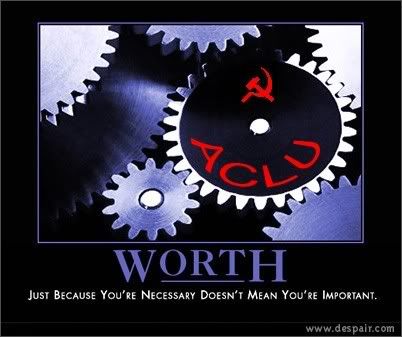 For those who weren't aware (meaning everyone on the Left), the A in ACLU stands for American. I am pretty confident that the ACLU has completely forgotten in, as they are now doing all they can to find ways to smear our troops
Newly released documents regarding crimes committed by U.S. soldiers against civilians in Iraq and Afghanistan detail a pattern of troops failing to understand and follow the rules on interrogations and deadly actions, the American Civil Liberties Union says.

The documents, released today by the ACLU ahead of a lawsuit, total nearly 10,000 pages of courts-martial summaries, transcripts and military investigative reports about 22 incidents. They include examples of soldiers believing they were within the law when they killed citizens.

The documents were obtained through a federal Freedom of Information Act request. The suit seeks to compel the military to produce all documents related to all incidents of civilian deaths at the hands of U.S. troops since January 2005.
Isn't that just fantastic? Now, the soldiers may be American, but it appears that the ACLU is attempting to "protect" the rights of foreigners, particularly ones in war zones, which begs the same old two questions: whose side is the ACLU on, and can we question the left's support of our troops yet?
When did their job become to attempt to protect the rights of foreigners? Yes, that is right, when they are seeing a way to take the military and our country down a peg, like liberals are wont to do. Why else would they be so concerned with warrantless surveillence of foreigners in foreign countries and foreigners captured on the battlefields of Afghanistan at G'itmo?
I question their patriotism, I question the moral compass, and I question their motives and purposes.

Do you have an interesting post? Well, go ahead and leave a trackback, with a reciprical link back to me. Make sure you comply, Comrade!

If you liked my post, feel free to subscribe to my rss feeds.