And a good White Trash Wednesday! Jebediah Murphy here, and it is time for the truth. And this has GOT to hurt Democrats, who are always so negative and downbeat. Except when something bad happens to America, of course
Americans say they're annoyed with politicians, vexed by the press and unsure about the war in Iraq, toxic Chinese imports and the stock market.

Yet we're happy about our personal lives. Quite happy, in fact.

"Overall, Americans are definitely satisfied with the life they lead. Almost all (94 percent) say they are satisfied, with over half of U.S. adults (56 percent) saying they are 'very' satisfied," said a Harris poll released yesterday.

The majority also say their lives have improved in the past five years, and almost two-thirds expect it to get even better by 2012. Such findings may seem incongruous in a year rife with partisan bickering. Indeed, the same poll found that only 19 percent of the respondents said the nation was "moving in the right direction."
So, after all these years of pushing how bad America is, particularly under Bush and Republicans, people are still satisfied, and over half are very satisfied. All the liberal negativity, all the nay-saying, all the doom and gloom, all the "world is going to end" from the liberal climahysterics, the talk about the economy sucking, etc. and so on, and Americans are still happy. Cheerful. Gleeful. Merry. Fulfilled.
This says something 'bout Americans. Basically, that we are, for the most part, positive people.
The final part, where only 19% say the country is moving in the right direction, has its own interest. Easy explanation. Liberals see the country as moving to Conservative. You know, things like low taxes, freedom to be oneself, doing away with all the PC BS, economic freedoms, less nanny state, family values, etc., drives them nuts. Conversely, Conservatives might see the country as moving too liberal. Things like abortion on demand, appeasement of enemies, high taxes, a repressive PC society, socialized health care, global warming restrictions, demolishing the nuclear family, etc., drive us nuts.
Of course, the high percentage of liberal respondents saying they are satisfied could be due to Prozac.
If you aren't very happy now, this should help
If you are, then you should appreciate this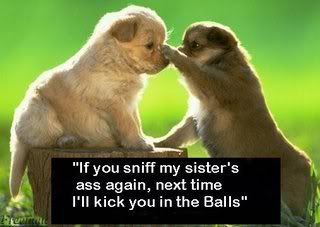 Trackposted with pigs feet to Outside the Beltway, Perri Nelson's Website, Rosemary's Thoughts, third world county, Big Dog's Weblog, Right Truth, The Pink Flamingo, Webloggin, and The Amboy Times, thanks to Linkfest Haven Deluxe.

If you liked my post, feel free to subscribe to my rss feeds.