Seems as if Playboy wants to get into the iPhone arena. (Hey, stop looking at me like that. The story came from al Reuters, found while searching the Huffington Post to see if they would say anything about the foiled London bombing.)
Apple's upcoming iPhone is being hailed by many as the sexiest new gadget in years. Now, Hugh Hefner's Playboy is looking to add a dollop of real sex to the combination cell phone, video player and Internet access device.

The lifestyle brand company that was built out of a glossy girlie magazine is offering a free set of 12 wallpapers featuring scantily clad Playmates to anybody who buys the device.

The magazine, which is of course most famous for its articles, is offering iPhoners the suggestive but non-nude images, an episode of its radio show "The Playmate Hour" and a Playboy video.
You do have to download a program to use it. Picture below the fold (safe for work)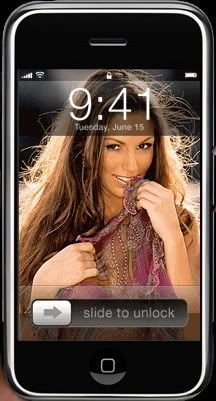 No, I will not be buying one and doing this to it.

If you liked my post, feel free to subscribe to my rss feeds.