Happy Friday to all! It's that time of the week again! Do you have an interesting post you want to share with everyone? The official Surrender Monkey of the Democratic Party Surrender Monkeys of the GOP say to do what the Lefties don't, since they all have the same talking points: link it!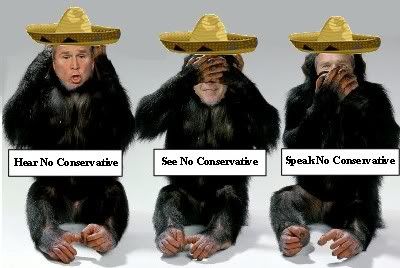 For the most part, I still support W in his war on terror, but sometimes the man can be denser then uranium, and it does not matter a whit that the shamnesty bill has collapsed and is most likely dead. Bush still deserves to be on TB Friday for surrendering to illegal aliens over the people who put him in office
(Washington Times) President Bush did not intend to single out his conservative supporters for criticism in a speech on immigration reform last week and was "surprised" that his remarks angered Republicans, White House spokesman Tony Snow said today.

"He was surprised by the reaction," Mr. Snow said of Mr. Bush's speech in Glynco, Ga., last week. "The speech in Georgia was, 'We've got a serious problem and we need to fix it.' It was not in any way designed to be pointed at Republicans."
Really? Is that so, Tony? OK, well, let's see what he said last week
"If you want to scare the American people, what you say is the bill's an amnesty bill," Mr. Bush said at a training center for border enforcement agents and other federal agents here in southeastern Georgia. "That's empty political rhetoric trying to frighten our citizens."

It was the conservative opponents to whom Mr. Bush seemed to speak most forcefully here.

"If you want to kill the bill," he said, "if you don't want to do what's right for America, you can pick one little aspect out of it. You can use it to frighten people."
No, no, no reason to be angry with him, eh? Especially since Conservatives have been upset with him for his illegal immigrant stances for at least 5 years. Well, I don't know about you, but I am going to continue to be a fear monger.
Mr. Snow yesterday said the immigration dispute between the president and conservatives "does not mark a point of disjunction," and emphasized that the White House recognizes and is responding to conservative opposition to the measure.
If only he would have responded to the wacko's on the left, such as the Truthers, in such a manner, just once.
As Michelle puts it, the White House thinks we are all idiots. I'm not so sure. At least if they thought we were idiots, it would mean the WH is paying attention to the Conservative base.
Allahpundit writes
Go figure, huh? Turns out it was all a big misunderstanding and he didn't really mean to accuse critics of the bill of scaremongering and not wanting to do what's right for America when he accused them of scaremongering and not wanting to do what's right for America.
Well, at least Bush finally admitted a mistake.
More: when I originally wrote this Thursday for today's posting, I had a final line that read "At least till next time." I obviously took it out. Maybe I shouldn't have
WASHINGTON (CNN) — President Bush considers it premature to declare the immigration reform bill dead in the Senate, White House adviser Dan Bartlett said Friday.

A motion to cut off debate on the measure failed Thursday night, stopping the proposal from coming up for a vote. Senate Majority Leader Harry Reid had said earlier that if the motion was not approved, it would be "over with … gone."

But Bartlett told CNN that Bush wants Reid to consider putting the bill back on the table.
While that is not taking shots directly at Conservatives, it sure doesn't help heal the rift.

Send a trackback to this post, but don't forget to link it. Otherwise, Bush will shed on you.

If you liked my post, feel free to subscribe to my rss feeds.