From CNN:
Evangelist Jerry Falwell died Tuesday after he was found unresponsive in his office, an official at Liberty University told CNN.

Falwell, 73, was rushed to a Lynchburg, Virginia, hospital, where he was given CPR.
He will be missed. When all is said and done, he was a good man, who believed strongly in the Lord.
But, like all other issues, leave it to a Lefty to go berserk and be unpleasant, to put it mildly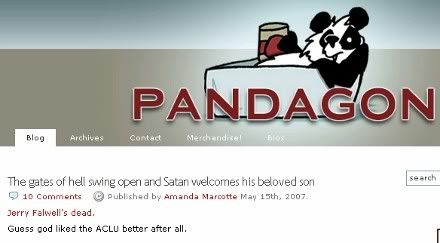 And, if someone wants to believe I used my powers of evil to photoshop that, check out her site. Plus, since Marcotte has been known to erase her archives, here is a full size photo, which includes the address.
Michelle M. says it was wise of the HuffPo to close their comments. I'd say she is 100% correct.
Can't check DUmmie World at the moment, but, I'm sure they are expressing their sympathies.
Hot Air is monitoring the nutballs.
Question: how are the Dems going turn Reverand Falwell's death into either a fundraising opportunity, chance to smear Republicans, or both?
Bob Owens at Confederate Yankee has a similar thought, plus a good 'bat roundup.
Trackposted to Right Pundits, Perri Nelson's Website, Rightlinx, third world county, Azamatterofact, stikNstein… has no mercy, Blue Star Chronicles, The Amboy Times, Leaning Straight Up, Conservative Cat, and The Yankee Sailor, thanks to Linkfest Haven Deluxe.

If you liked my post, feel free to subscribe to my rss feeds.