Via Drudge:
The Subcommittee on Energy and Air Quality hearing scheduled for Wednesday, February 14, 2007, at 10:00 a.m. in room 2123 Rayburn House Office Building has been postponed due to inclement weather. The hearing is entitled "Climate Change: Are Greenhouse Gas Emissions from Human Activities Contributing to a Warming of the Planet?"
It's 32 degrees with freezing drizzle at the moment, winds NNE over 20 MPH. The forecast?
Windy…with light rain and freezing rain this morning…later mixing with light snow and sleet. Significant icing likely. High 32F. Winds NNW at 25 to 35 mph. Snow and ice accumulations less than one inch.
Looks like the committee members are wimps. Even down here in North Carolina, that is wimpy weather. Somehow, though, the global warming zealots will blame the storm on global warming as caused by Man.
And those poor polar bears, who keep having climate change nuts coming up to visit them?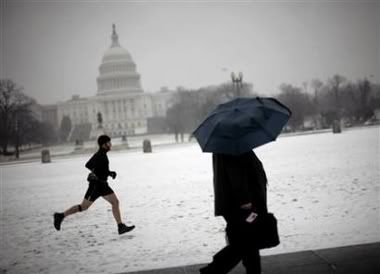 Others: Sister Toldjah on cancelling of "An Inconvenient Truth." Tim Blair, The Jawa Report, Leaning Straight Up.
Sondra K has someone writing in the snow. LOL.
Hot Air has more, as well as linking to Texas Rainmakers photo of the Committees website.

If you liked my post, feel free to subscribe to my rss feeds.