It's that time of the week again! Do you have an interesting post you want to share with everyone? The official Surrender Monkey of the Democratic Party says to do what the Lefties don't, since they all have the same talking points: link it!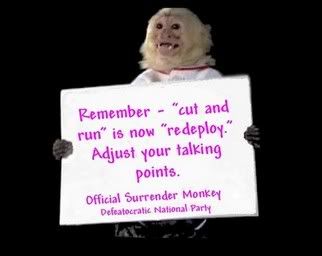 The Surrender Monkey is upset with a few Demonrats, though:
Four of the six Democrats flirting with a possible bid — Dodd, Hillary Rodham Clinton of New York, Joe Biden of Delaware and Evan Bayh of Indiana — took a middle-of-the-road approach.

They voted for a nonbinding resolution that would have urged the administration to start withdrawing troops by year's end. But they opposed the other proposal that would have carried the force of law and set a firm date by which all must be out of Iraq.

"I simply do not believe it is a strategy or a solution for the president to continue declaring an open-ended and unconditional commitment, nor do I believe it is a solution or a strategy to set a date certain for withdrawal without regard to the consequences," Clinton said.

Biden summed up his strike-a-balance position this way: "The president has a plan how not to lose, but no plan how to win. And a plan to arbitrarily set a date, in my view, to leave, is not a plan."
I hope Clinton and Biden expect the Leftards to vote for them. The story actual points out that cut and run, er, excuse me, redeployment is favored by the left win of the democratic party.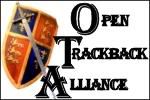 Send a trackback to this post, but don't forget to link it.
More: Blame Bush explains "redeployment"

If you liked my post, feel free to subscribe to my rss feeds.