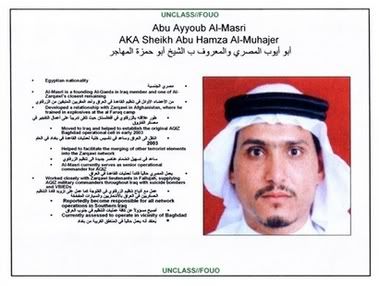 "Hi. I'm Abu Ayyub al-Masri.  You can call me Abu. I enjoy long walks in the moonlight with bombs. I enjoy long drives in the desert, with bombs. I think I have a good shot at being the next leader of al Queda in Iraq, and its next martyr."
"Huh? You mean that they translated the Koran wrong, at it mean grapes, not virgins? Crap. They infidels have my picture!"
Of course, you know that the Lefty media will call this guy a militant and insurgent, despite being Egyptian and a known long term terrorist.
Doesn't he remind you a bit of Ike from Up The Academy?
Fiesty Republican Whore likes his wicked unibrow.

If you liked my post, feel free to subscribe to my rss feeds.