Yes, this would be the same Alexandria Ocasio Cortez who introduced the Green New Deal almost 2 years ago come February, and has never demanded it be considered in committee, much less voted on. Also present was Senator Ed Markey, the sponsor in the Senate, who voted "present".
AOC, Lawmakers Call on Biden Administration to "Keep Its Promise" on Addressing Climate Change

A group of current and incoming representatives – plus one sitting senator – reiterated their demands on Thursday that the incoming Biden administration put forward massive, progressive action on climate change.

Democratic Representatives Alexandria Ocasio-Cortez, Ilhan Omar, Rashida Tlaib and Ro Khanna were joined by representatives-elect Cori Bush, Jamaal Bowman and Mondaire Jones outside DNC headquarters alongside climate activists to push for action that addresses the concerns of everyone in the United States — not just white Americans. (there's a tweet embedded in article of them Demanding Biden have a corporate free cabinet….good luck)

The representatives were joined by Senator Ed Markey of Massachusetts, who was among those who signed on to the Green New Deal in 2019, and who agreed that climate change is also an issue of racial justice. Markey said his incoming colleagues represent "this revolution changing the way in which people see the issue of climate change in our lives."

Markey further called on the president-elect to use the funding to fix "the obvious reality that Black and brown communities have always breathed different air than white, suburban communities in the United States of America."
Weird that they breathe such bad air in Democratic Party run cities….of course, that has zero to do with 'climate change'.
The group argued that minority communities are affected by climate issues at a much higher rate than white Americans, saying it is a matter of life and death.
Of course they do: have to keep those black and brown people fearful and Dependent on the Democrats for the votes, though, Dems never actually do something to resolve issues. If they did, there would be no way to keep those minorities under their thumb.
On Thursday, activists and lawmakers stressed that the president-elect had previously pledged 40% of his climate budget will go towards minority communities—and they plan to hold him to it come January.

"This is an urgent matter that we have to deal with. We are living in a climate catastrophe," said Congressman-elect Jamaal Bowman of New York's 16th district. "Biden has pledged a $2 trillion investment in environmental justice, and 40 percent of that has been pledged to districts like mine across the country."

"That 40 percent has to be part of a green new deal that rebuilds Black and brown communities across this country," Bowman continued.
Isn't this what's called "extortion"? They voted for Biden and now Biden has to pay up. Or, is this more of a shakedown? Anyhow, when do all these Democrats practice what they preach and make their own lives carbon neutral?
Ocasio-Cortez, who served on Biden's climate policy panel during his campaign, assured viewers that they are making progress on addressing climate change. Describing Biden and his team as "decent, kind, and honorable," Ocasio-Cortez added: "I don't want anyone here to think we are not winning. We are winning. We are going to secure the tenets of a Green New Deal."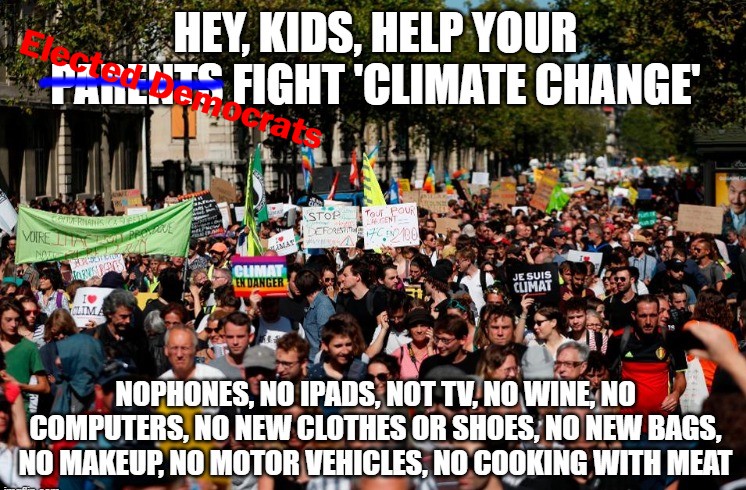 If you liked my post, feel free to subscribe to my rss feeds.