They're already attacking Amy Coney Barrett over her religion, and figuring out other ways to attack her prior to the confirmation hearings. And
(Breitbart) Left-wing groups, including MoveOn, Indivisible, NARAL Pro-Choice America, and the Sunrise Movement are launching protests at courthouses across the country to oppose the nomination of Amy Coney Barrett to replace Ruth Bader Ginsburg on the U.S. Supreme Court.

In what has been dubbed the SCOTUS Rapid Response Action Guide, protest planners offer a wide range of guidance for protesters and also provide links so visitors can donate to Planned Parenthood to "protect RBG's Legacy."
Of course abortion is #1, right? Then we have
Critics Go Ballistic As GOP Peddles 'Notorious ACB' T-shirts

Critics on Twitter were aghast Saturday as the GOP peddled its latest product: a "Notorious ACB" T-shirt, ripping off the hard-earned and respected nickname of the late Supreme Court Justice Ruth Bader Ginsburg.

The shirt went on sale just minutes after President Donald Trump formally nominated Amy Coney Barrett to replace Ginsburg in a process Democrats are calling an illegitimate rush to ram through a conservative judge with just over five weeks before the presidential election.

The shirt was posted online by the National Republican Senatorial Committee, which raises funds to help elect Republicans to the Senate.

Observers were appalled at the stunning lack of respect for Ginsburg, whom many fans referred to as the Notorious RBG and who had lain in state in the Capitol just the previous day.
They're "appalled", more likely apoplectic, that ACB exists and will get confirmed. So everything will make them nutbar
This is the most DESPICABLE and disrespectful promotion referencing Notorious most representing the legendary Ruth Bader Ginsberg. Do you have ANY sense of decency or respect??

— TheSocialMediaDiva (@LinkedMediaDiva) September 26, 2020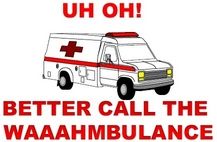 One complained about fundraising "off the death of RGB". Might want to reconsider that line, since Democrats have been fundraising hard since her death.
Please stop calling her "ACB". It demeans #RBG and the rest of us. (NOTE: I fixed the typo, "trolls" please continue with your attacks)

— David Mandel (@DavidHMandel) September 27, 2020
They literally cannot even take using her initials. That guarantees people will use them, right?

If you liked my post, feel free to subscribe to my rss feeds.