Of course, the question the Cult of Climastrology should be asking is if anyone actually cares now that there is a real emergency
How do you strike for the climate when everyone's stuck at home?

…

One of the few silver linings of a generation-defining cataclysm like the coronavirus is that everything can change in its aftermath. Just as the welfare state was embedded following World War Two, many activists on the left believe this is an opportunity to address fundamental issues like chronic poverty, economic inequality and, most of all, climate change. (snip)

As a result, that stimulus package will be enormous. The government has already announced a support program of approximately $25 billion, and more will come in this Thursday's Budget. Faced with this surge in government spending, climate activists are determined to direct the cash flow towards creating a green future. "This is the first time in my generation that we've had billions of dollars on the table," noted Amanda Larsson, Greenpeace NZ's lead climate campaigner. "It's a chance for a total economic reset. That's why we've been calling for a green Covid recovery." (snip)

Covid-19 cast a new light on the climate challenge. "We realised that this is a once-in-a-lifetime opportunity for us to reshape our world," said Coco Green-Lovatt, a lead organiser with New Zealand's #SchoolStrike4Climate movement. "Maybe a year ago, our demands might not have seemed like they were going to be implemented. But then Covid-19 happened, and we could see that our demands were both crucial and possible."
This isn't really about science, is it.
To regain some strength, climate groups like #SchoolStrike are shifting to digital. The group has scheduled an Zoom "Online Strike" for May 15th. Strikers will put #unitebehindclimate placards in their windows and draw their vision of a green New Zealand with chalk at the end of their driveway. It's an amalgam of lessons from lockdown: the virality of window teddy bears, the interactivity of Anzac Day's #StandAtDawn event, the necessity of keeping people engaged through more than just funny Zoom backgrounds. But details are still scarce, and without the vibrancy of an in-person event even the organisers acknowledge it likely won't match up to their previous strikes. "We might not get the same numbers that we did last year," conceded Green-Lovatt.
I'd like to get on that and hold up this sign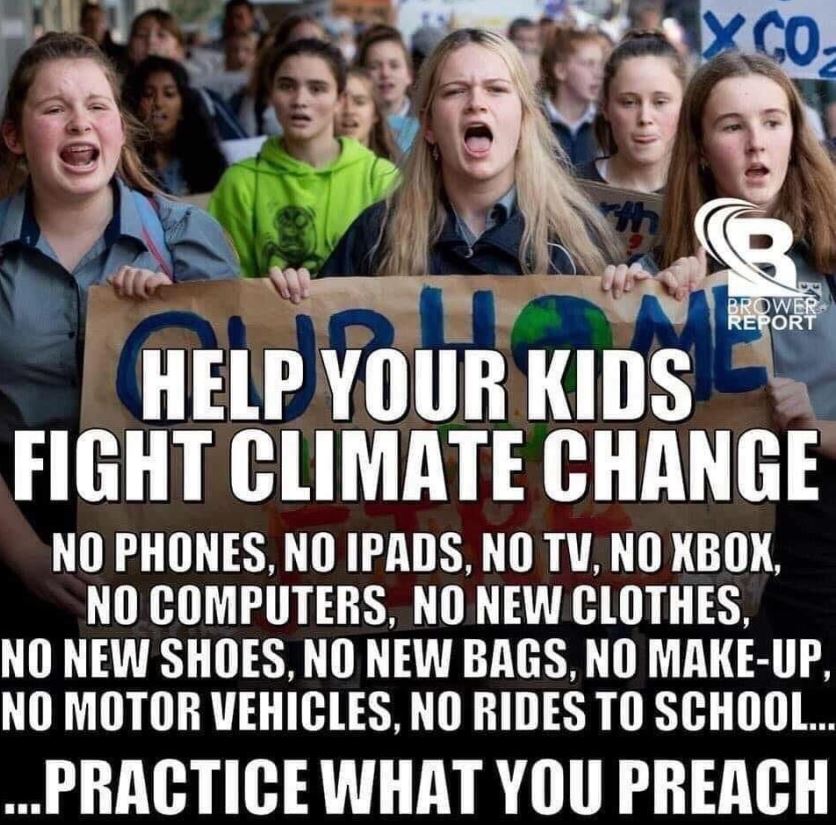 If you liked my post, feel free to subscribe to my rss feeds.