The funny thing here is that The Hill tries to make this a bipartisan thing, when, really, it is primarily Democrats losing their minds, mostly because of Trump Derangement Syndrome
F-bombs away: Why lawmakers are cursing now more than ever

For lawmakers and political candidates, 2019 could be the year of not giving a f— about cursing.

Profanity — once considered a major no-no among those seeking public office — is no longer an earth-shattering political snafu. And according to new research, this year could be on track to see members of Congress swearing up a storm more than ever before.

In analysis conducted exclusively for ITK, GovPredict, a government relations software company, found that the frequency of lawmakers using words that might make one's grandmother blush has increased steadily since 2014.

President Trump and several of the candidates seeking to replace him next year — including Sens. Bernie Sanders (I-Vt.) and Cory Booker (D-N.J.) — have used impassioned swear words to make their points recently. Sanders responded to a debate comment about "Medicare for All" last month by saying that he "wrote the damn bill," and Trump used the word "hell" at least half a dozen times at a Thursday night rally.

GovPredict's data shows that obscene language not including the words "shit" and "f—" has been used at an all-time high by politicians, with 1,225 instances on Twitter so far this year compared to 833 in 2018.
Well, using damn isn't such a big damned bill.
But these days, look no further than countless congressional social media accounts and political rallies for R-rated language.

Earlier this month, while talking to reporters, former Rep. Beto O'Rourke (D-Texas), a 2020 White House hopeful, dropped an F-bomb while expressing his seeming frustration with the media. After being asked by a reporter about what Trump could do in response to a mass shooting in El Paso, Texas, O'Rourke said, "He's been calling Mexican immigrants rapists and criminals. Members of the press, what the f—?"

Booker also used less than flowery language after Trump blamed, in part, video games for the recent gun violence.

"Listening to the president. Such a bullshit soup of ineffective words," Booker said in a text message shared by his campaign manager on Twitter.

Booker made a similar statement in May in a CNN interview while speaking about gun control: "We are not going to give thoughts and prayers, which to me is just bullshit. I'm sorry to say that as a man of faith, but I was taught that faith without works is dead."

In early August, Rep. Maxine Waters (D-Calif.) urged Americans to call on their representatives to ban assault weapons, writing on Twitter, "Demand the Members of Congress get rid of ALL assault weapons or kick our ass out of Congress!"

Rep. Rashida Tlaib (D-Mich.) made headlines in January when she exclaimed to a cheering crowd about Trump, "We're gonna go in and impeach the motherf—er." She later responded to critics by tweeting, "I will always speak truth to power. #unapologeticallyMe."
Funny how most examples are from a Democrat. So, are you ready for who's to blame?
Some critics of the boost in blasphemous words point to the president as the source of the current coarse political tone. A New York Times story in May detailing Trump's long history with cussing in public dubbed him the "profanity president." In a speech that same month, Trump said "bullshit" multiple times, one of several instances of foul language spoken by the commander in chief at rallies, in interviews, on Twitter and in private — including infamously referring derisively to "shithole countries."
Of course, it's all Trump's fault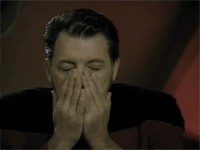 If you liked my post, feel free to subscribe to my rss feeds.