The Paris Climate Agreement was so historic, so landmark, that most are more interested in appearances, and are finding it rather tough to force citizens and private entities to comply with reduced lifestyle and a higher cost of living to go with the higher taxes
Few countries are meeting the Paris climate goals. Here are the ones that are.

This week, a top scientific body studying climate change released a terrifying report. The world has just a decade to take "unprecedented" action to cut carbon emissions and hold global warming to a moderate — but still dangerous and disruptive — level. That would require a "rapid and far-reaching" transformation of the world's economy, one of such scale and magnitude that it has no historical equivalent.

The U.N. Intergovernmental Panel on Climate Change warned that nearly every country will need to significantly scale up the commitments made under the 2015 Paris climate accord if humans hope to avoid disaster. Under that agreement, 195 countries pledged to cut their greenhouse-gas emissions to try to keep global warming under two degrees Celsius.

But it's hard to imagine that will happen, as almost no country is doing a good job meeting the relatively modest goals in place. (The United States was a signatory of the 2015 Paris agreement, but last year President Trump announced that Washington was pulling out of the pact.)

The Climate Action Tracker, a project run by a group of three climate-research organizations, has been monitoring the progress of 32 countries in meeting the Paris accord goals. Taken together, those 32 countries account for 80 percent of the world's greenhouse gas emissions.
Most of the rest of the nations are 3rd world shitholes developing countries and/or tiny nations that matter little. So, how are these 32 doing?
As the graphic below shows, the group found that most major polluters are making few, if any, efforts to meet their goals. By Climate Action's calculations, "critically insufficient countries" failed to even commit to cutting emissions significantly on paper. Only seven countries have made commitments or efforts that would achieve the goal of the Paris accord.
Here's what it looks like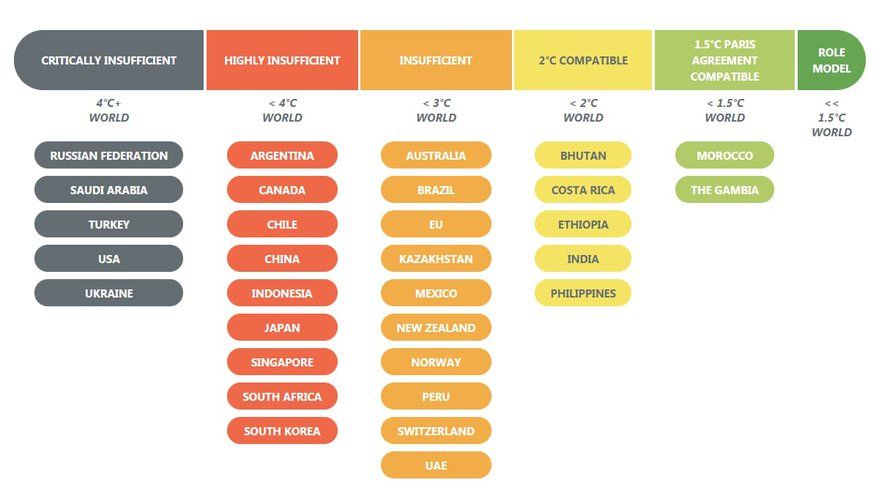 Hilariously, the U.S. is leading the world in CO2 emission reductions, despite killing off Obama's Clean Power Plan, pulling out of Paris, and many other measures, many of which wipe out Obama's "legacy."

If you liked my post, feel free to subscribe to my rss feeds.