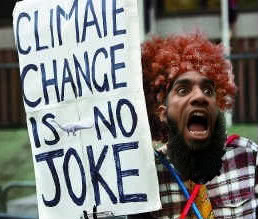 So this happened Thursday afternoon
M 5.1 – 10km ENE of Dover, Delaware https://t.co/2sCYZ2IWqT Don't forget to send the USGS a "Did You Feel It!" report pic.twitter.com/LZoxq5H8f8

— USGS (@USGS) November 30, 2017
There's been some confusion in terms of actual power. It was originally reported as a 5.1, then seemed to be downgraded to 4.4, then the USGS makes it a 4.1. Regardless doesn't matter, because it's your fault for driving a fossil fueled vehicle, using a hair dryer, and not growing your own food while giving up meat
It's snowing in Hawaii, 81 degrees in Denver, and now there has been an earthquake in Dover, DE. Might want to consider this climate change stuff. BTW, there hasn't been a quake in Dover since the mid 1800s. #ClimateChange

— Maridee Now (@marideenow) November 30, 2017
Hawaii is ❄️
Delaware has earthquake 🦖

Woahhh! #GlobalWarming #Climate

— вee 🖤❄️ (@_shybree) November 30, 2017
Earthquake in D.C but climate change isn't a thing at all ? 🤔

— Jose (@_maAchh) November 30, 2017
Another #earthquake on the east coast, but climate change is a hoax. More fake news!

— PatriotChimp (@chimp_patriot) November 30, 2017
Definitely just felt an #earthquake in the middle of New Jersey. But unnaturally rapid climate change ain't real though. 🤔🤔

— Rashad Malik Davis (@RashadMDavis) November 30, 2017
Ok I just experienced my first mini earthquake and FUCK CLIMATE CHANGE IS REAL

— Hill (@over_the_hillz) November 30, 2017
Let's not leave fracking out!
Delaware Earthquake Size & Aftershocks: Is Fracking to Blame? https://t.co/sPbTQoDqjI

— ツ Nick (@npnikk) December 1, 2017
Plenty of silly tweets on this. You know, because they're the party of science! Which thinks there are more than two actual genders.

If you liked my post, feel free to subscribe to my rss feeds.