A very interesting poll from YouGov
Most climate change believers haven't changed their lifestyles

57% of Americans now believe that human activity and natural causes are affecting Earth's climate. Among them, most oppose President Trump's pulling the US out of the Paris Climate Agreement and 63% think the nations of the world should all work together to improve the global environment.
Only 15% think it is solely Mankind's fault. Only 13% think solely natural causation. The interesting thing here is that the question does assign a percent to how much man and nature are responsible in the middle ground question. I myself would answer that man AND nature are at fault. I've discussed this many times, and I think real climatic changes, as opposed to the manufactured data ones, is about 10-25%, and much of that is simply land use and the urban heat island effect.
Here's where it gets fun
We asked respondents about their consumption of fossil fuels and red meat, both of which have been noted for their impact on Earth's ecosystems. Commercial beef production, for instance, accounts for more greenhouse gas each year than all the cars on the planet. 13% of climate change believers said they've greatly reduced their consumption of red meat, and 17% said they've reduced a little. 66% haven't changed their habits at all.

Climate change believers were also asked about how their fossil fuel consumption has changed since hearing about climate change. 9% have cut back a lot, while 54% haven't changed their consumption at all.
Here's what it looks like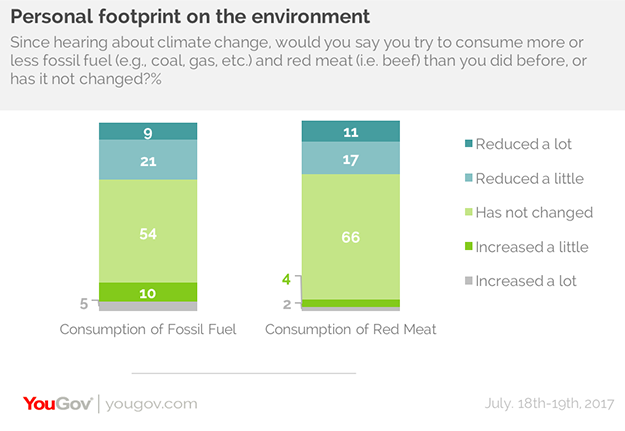 So, as we see, the majority aren't really doing anything in their own lives, and you know that the majority are Warmists. And then there's this, from the full results

So, after 25+ years of spreading awareness, 48% aren't really worried, and 35% are just somewhat afraid. The Cult of Climastrology has spent a lot of time and money for negligible outcomes.

If you liked my post, feel free to subscribe to my rss feeds.