Remember the days when you went to the Weather Channel for, get this, weather? Now you go for Progressive propoganda
87 Percent of Americans Unaware There's Scientific Consensus on Climate Change

Nearly 90 percent of Americans are unaware that there is a consensus within the scientific community that human-caused climate change is real and threatens the planet, a new report says.

According to the report published last week by the Yale Program on Climate Change Communication and the George Mason University Center for Climate Change Communication, only 13 percent of Americans were able to correctly identify that more than 90 percent of all climate scientists have concluded that climate change is real.

The annual survey of 1,266 adults compiled in May and June failed to note that it is actually 97 percent of climate scientists that concur that human-caused global warming is happening.
If you're thinking that they're referring to the utterly debunked and discredited Cook et all "study", you'd be correct. Look at this graphic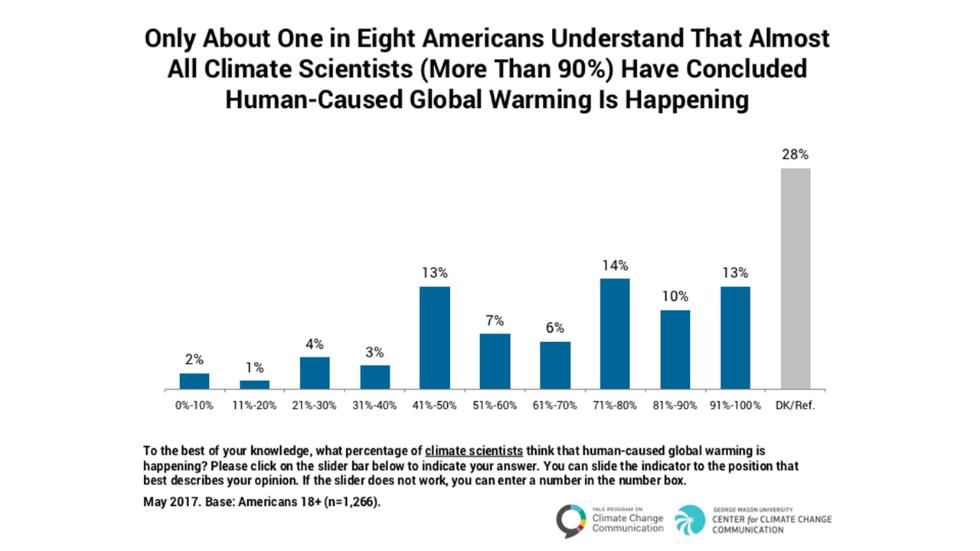 It is utterly silly in that the question is asking if they know what scientists are thinking. Really, humans do affect the climate. They question is "how much"? The Cook survey determined that, when the papers actually took a view, was 50% or less among most. And, get this, from the report from Yale
Only one in three Americans (33%) discuss global warming with family and friends "often" or "occasionally," while most say they "rarely" or "never" discuss it (67%). Additionally, fewer than half of Americans (43%) hear about global warming in the media at least once a month, and only one in five (19%) hear people they know talk about global warming at least once a month.
25+ years of spreading awareness and this is the best they can do? Even with all the fear-mongering from the media, which is almost fully under control of Cult of Climastrology members? With TV programs, constant world-wide meetings, indoctrination in schools, programs at museums and aquariums, etc and so on? Warmists should get their money back from the advertising agency. They aren't doing a good job.
Oh, and consensus is not science. It's politics.

If you liked my post, feel free to subscribe to my rss feeds.