So, this happened
Ivanka Trump briefly takes father's seat at G-20 summit session https://t.co/NgMUZdgMP9 pic.twitter.com/irWREovmhY

— The Hill (@thehill) July 8, 2017
As you can guess, American Leftists went ballistic, as you can see at Twitchy. And a different Washington Post screed by Kristine Phillips
"Unelected, unqualified": The Internet's reaction to Ivanka Trump taking her dad's seat at G-20 https://t.co/xV1zkdMN0P

— Washington Post (@washingtonpost) July 8, 2017
But, that was not enough for the Washington Post, because Democracy Dies In Darkness or something (there's an add embedded in the story about subscribing because "the story must be told"), and they're more interested in smearing rather than actual reporting and facts, as Abby Phillips gives Apoplexy a whirl
Ivanka Trump takes father's seat at G-20 leaders' table in break from diplomatic protocol

Ivanka Trump was deputized to fill in for her father at a table of world leaders at the Group of 20 summit on Saturday, reigniting questions about the un­or­tho­dox mixing of family and government in President Trump's White House.

The moment, captured in a pixelated photo by a member of Russia's delegation, seemed to perfectly capture the scope of the first daughter's expansive influence in Trump's administration. But it drew sharp criticism by some who say that the move demonstrates Trump's flouting of democratic norms against such familial arrangements as well-established diplomatic protocols.

Former NATO ambassador Nicholas Burns, who served as a diplomat under Presidents Bill Clinton and George W. Bush, said the incident was a breach of protocols for such summits. Those traditions are intended to send a clear message to world leaders about who has power in the government.

Burns said in his experience at summits, the secretary of state would take the president's place at the table.

"This is a group of the 20 most powerful leaders in the world in the 20 most powerful countries in the world," Burns said. "It conveys that impression and we are a democracy and that's also important here."

"Authority is not conferred upon family members because of the president's position," he added.
OMG no!!!!!! How horrible!
"Yes, it stuck out," said a senior European official who took part in the G-20 talks and who spoke on the condition of anonymity to speak candidly. "The very fact that his daughter is senior adviser smacks of the kind of nepotism not seen since John F. Kennedy named Robert F. Kennedy as attorney general."
See? This unnamed source says this is exactly like if he named her attorney general!!!!!
Some critics online compared Ivanka Trump's presence at the table to a "banana republic" and argued that she is both "unelected" and "unqualified" to step into a role usually filled by officials with policy expertise.
A banana republic!!!!! America is doomed!!!!! Oh, wait
(Bloomberg) A spokesman for Ivanka Trump said she had been sitting in the back of the room and then briefly joined the main table when the president stepped out. The president of the World Bank addressed the meeting, which was about African migration and health — areas that would benefit from a facility that Ivanka Trump and the World Bank had announced shortly before the meeting, the spokesman said.

G-20 leaders are allowed to bring staff into the room for some of the meetings, and when other leaders stepped out during today's session, their seats were briefly filled by others. Ivanka Trump serves as an unpaid adviser to her father, as an assistant to the president.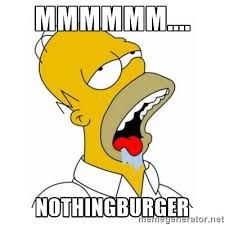 So, this was nothing unusual, especially as she wasn't there long. As Jazz Shaw notes
Ivanka Trump is a presidential adviser and travels on many of these trips as part of the staff. Donald Trump was not the speaker nor did he have any "official duties" at that point beyond listening to the presentation. If you don't think his daughter is capable of doing that much and summarizing it for him later then you apparently have a problem with women.
We also learn that Donald stepped away to, get this, have one-on-one meetings with other world leaders.
I'd ask liberals to just do some calming exercises, relax, but, we all know that won't happen.
Crossed at Right Wing News.

If you liked my post, feel free to subscribe to my rss feeds.