Can you pick out what's wrong with this?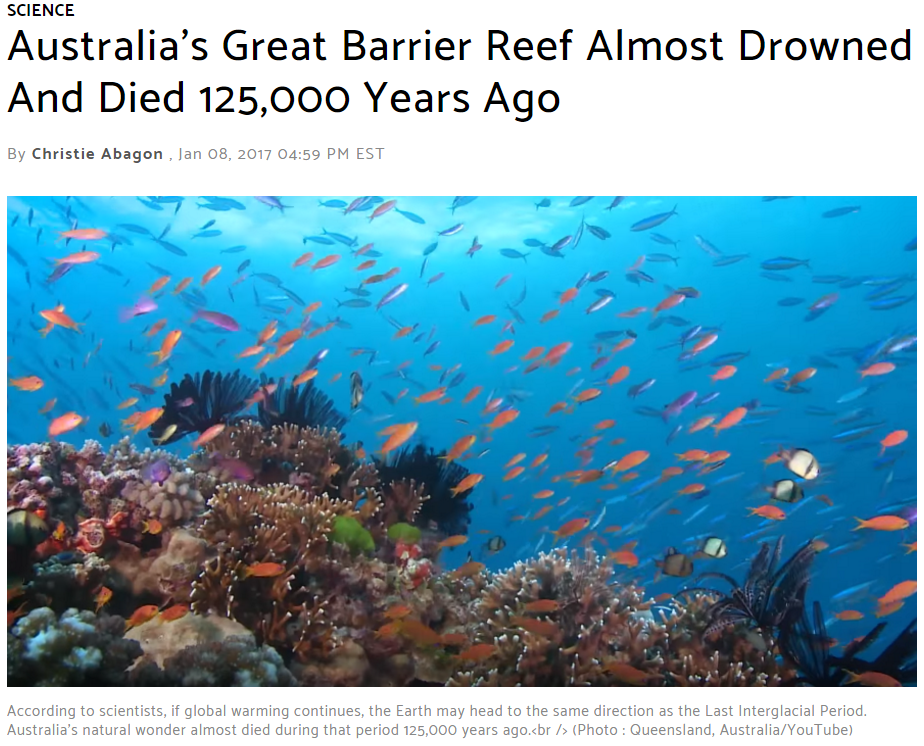 The Great Barrier Reef located off the coast of Queensland in northeastern Australia, is the largest living structure in the world.  It is home to a wide range of life, including fish, sea turtles, giant clam, seahorse, sea snakes, nudibranch, sea turtles, stingray, sharks and many more.  Good thing it didn't die 125,000 years ago.

Researchers from the University of Sydney found that Australia's natural wonder almost drowned and died during the Last Interglacial period.  This period, Yahoo News said, was marked with higher temperatures, which led to melting of glaciers and polar ice sheets, raising sea levels.

Scientists say that both the temperatures and sea levels then were higher than they are now, and they fear that the Earth is headed in the same direction if global warming continues, Morning Ticker reported.
Let's start with the notion that corals and all the sea life that lives there "almost drowned". The Yahoo News article mentioned has this quote
"In combination with climate change predictions by the Intergovernmental Panel on Climate Change and in the absence of improvements to reef management and human impacts, sea-level pressures could tip the reef over the edge, potentially drowning it for good," Belinda Dechnik from the university, who was also lead author of the study, said in a statement.
That statement also includes the pithy headline "Great Barrier Reef almost drowned," as well as several mentions of sea life drowning from ocean heights rising, which brings us to the second issue: what caused the sea rise back then?
But, hey, this is not about science, it's about attempting to scare people into letting government dominate their lives and accepting increased costs of living.

If you liked my post, feel free to subscribe to my rss feeds.