Sad news for all the Cult of Climastrology members, via a National Journal poll, which asked specific Democrat and Republican insiders what they thought

25+ years of spreading awareness…ok, whining… and this is the best they can do.
Amongst the Republican insiders asked, only 4% thought major, 66% minor, 30% no role.
There are many quotes from both sides, generally in a political manner (why else? This is a political issue, not a scientific issue), and the best comes from a Republican
"Voters don't care."
No, they really don't. Climate change tends to be last or next to last in every issues poll. In yet another United Nations international poll, climate change is last overall, yet again. As Anthony Watts notes, the only places where "climate change" ranks higher are a places that have high HDI, human development index
Note that in these countries (medium to dark blue), people already have the things in place that come in lower than the climate change, so they tend to take them for granted. Countries that have a high HDI have reliable energy, Internet access, political freedoms, and social programs, so it is no wonder these sorts of things come in as lower concerns in medium to high HDI countries. These countries also tend to have a population that has people economically free enough to worry about things like climate change, whereas in some countries, you can't get electricity or get on the Internet to read the latest doom and gloom being spewed by MSM outlets like the Guardian.
First World Problems.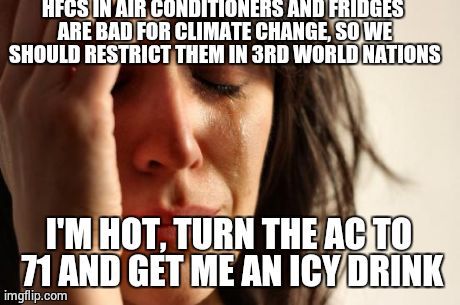 If you liked my post, feel free to subscribe to my rss feeds.