Obviously, members of the Cult of Climastrology will have two main complaints. First, we'll hear about how this is "cherry picked", because they don't seem to have a grasp of the concept of working back from now. Second, they'll yammer on about the US only being two percent of the globe.
(Daily Caller) Data from America's most advanced climate monitoring system shows the U.S. has undergone a cooling trend over the last decade, despite recent claims by government scientists that warming has accelerated worldwide during that time.

The U.S. Climate Reference Network was developed by the National Oceanic and Atmospheric Administration (NOAA) to provide "high-quality" climate data. The network consists of 114 stations across the U.S. in areas NOAA expects no development for the next 50 to 100 years.

The climate stations use three independent measurements of temperature and precipitation to provide "continuity of record and maintenance of well-calibrated and highly accurate observations," NOAA states on its website. "The stations are placed in pristine environments expected to be free of development for many decades." In essence, NOAA chose locations so they don't need to be adjusted for "biases" in the temperature record.
Here's what it looks like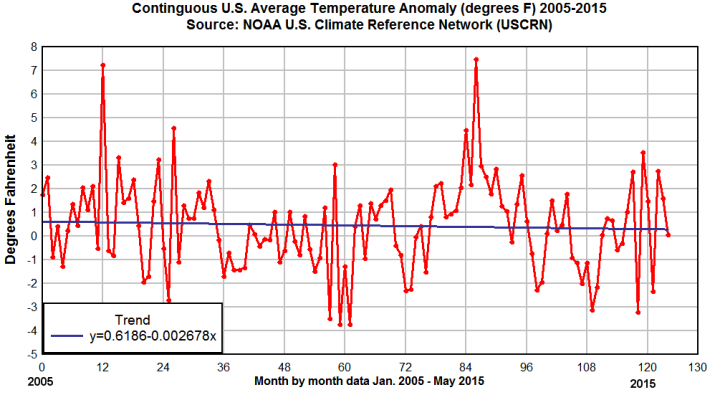 Is the trend "statistically significant"? That's debatable, being a decrease of .61 degrees F in 10 years. But, the actual hard data does show a decrease.
Does it mean cooling is coming? Not necessarily. What it does show is that computer prognostication models continue to fail, models based on Mankind being mostly/solely at fault for the warming of whichever period the Cult decides to use, such as 1980 to 1996. Now that's cherry picking.

If you liked my post, feel free to subscribe to my rss feeds.