Here's a test for Chris Christie if the legislation makes it to his desk vis a vis running for President as a Republican
(NJ.com) Democratic lawmakers in both house of the legislature have struck a deal that would allow passage of a measure restricting gun owners to a 10-round magazine, down from the current limit of 15, two sources with knowledge of the deal said today.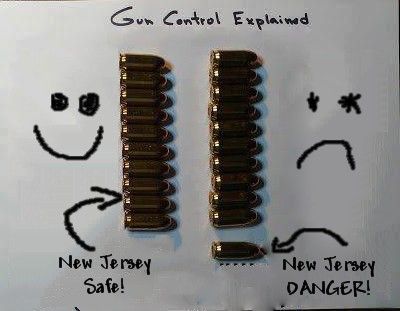 Fewer rounds in a magazine means more reload time, gun control advocates say, and more time for people involved in a mass shooting to stop the shooter or run away.  The drop, they say, means only an inconvenience for gun owners, while it could save lives.
Of course, since the areas these nuts tend to shoot up are gun free zones, having to take an extra 2-3 seconds here and there to reload shouldn't bother them.
"The Governor should take to heart the tragic experience of the Sandy Hook families as well as their heartfelt commitment to safety from gun violence for all Americans and sign the ten round maximum capacity bill when it reaches his desk. It's about public safety," said Bryan Miller, executive director of Heeding God's Call, a faith-based organization focused on preventing gun violence. "Opponents of this remarkably moderate and reasonable public safety measure make clear their extremism, for no one needs more than ten rounds for hunting, sport shooting or self defense."
If no one needs more than 10 rounds for self defense, why do most police officers carry handguns which hold more than 10 rounds? Glock is the most popular, and most of the models for law enforcement hold 15 rounds or more.
It remains to be seen if the Gov. Chris Christie will sign both bills.  Advocates say they have received no indication from the governor if he supports the measures.
If he signs it, he might as well not bother running. Furthermore, if Democrats in the GA pass this, they should make sure that all the security at the buildings they inhabit carry no more than 10 bullets per magazine. That would be only fair.

If you liked my post, feel free to subscribe to my rss feeds.