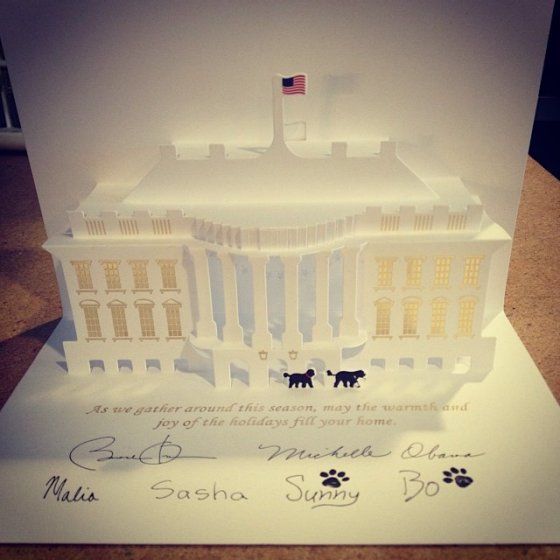 Obviously, if you complain about this, you must have faux outrage or something
(HuffPo) For four years, conservatives have faulted the seasonal mailing out of the White House for a lack of allusions to Christmas: no tree, no manger, no jolly old man.

And here we are again, at that most wonderful time of the year:

The 2013 card, pictured above, hit mailboxes this week. The pop-up contraption features signatures from all four human Obamas, two mini-paw prints, and a message that reflects the first lady's theme of gathering. The stars of the show, though, are the two upright silhouettes of the Obama family dogs, Bo and Sunny.

Cue the outrage. In years past, the Obamas' focus on their canine demographic in particular has rankled critics, who see the choice to spotlight any one thing as a choice not to spotlight something else — that something else being a Christmas tree.
You're probably a raaaaacist, too, if you object to the secular tone of the card.

If you liked my post, feel free to subscribe to my rss feeds.