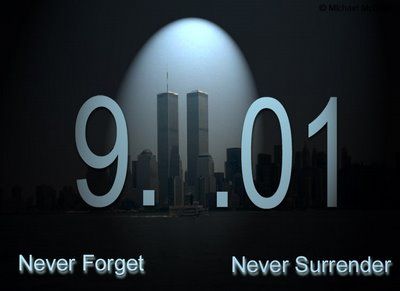 Today marks the 12th anniversary of that dark day, when Islamic jihadis killed 2,996 of our friends, neighbors, and loved ones. Last year, the USA Today is wondered if 9/11 is becoming just another day, similar to Pearl Harbor Day. Based on the tiny coverage by major news outlets, which feature tiny stories on their front pages, if at all, it just might be. The NY Times' article is about "taking stock" of the years of war, you know, after we were attacked. And spends little time discussing the attacks. The big editorial is about "The Race To Improve Global Health". The Washington Post isn't much better. Nor CBS and NBC. ABC does feature a big graphic at the top. Good for them. LA Times? Tiny.
Those blogging (from the feedreader at this time of the morning)
Why should we never forget? Things like this
There's also the long video The Falling Man. And 102 Minutes That Changed America.
And, yeah, Obama completely mails it in.

If you liked my post, feel free to subscribe to my rss feeds.