Happy Friday to all! It's that time of the week again! Do you have an interesting post you want to share with everyone? The official Surrender Monkey of the Democratic Party says to do what the Lefties don't, since they all have the same talking points: link it!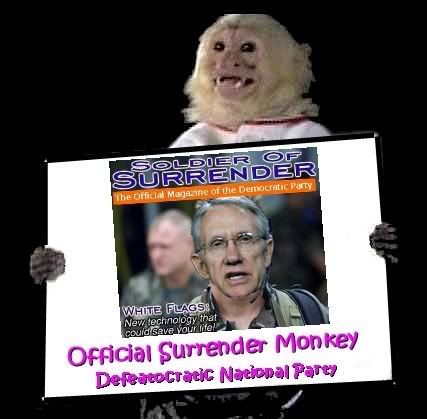 Surrendie makes his triumphant return, after a few weeks of making room for the Shamnesty monkeys. Well, really, he said he would throw a complete conniption fit if he wasn't allowed to cover Dingy Harry's Iraq Summer Surrender
(Washington Times) Senate Majority Leader Harry Reid has refocused his antiwar crusade as his and Congress' job-approval ratings plummet to all-time lows.

Mr. Reid began the week Monday by vowing to "push very, very hard" for troop withdrawal from Iraq in a Defense Department budget authorization bill in two weeks.

The next day — as the Senate began work on the energy bill and tried to revive immigration legislation — the Nevada Democrat and House Speaker Nancy Pelosi of California sent a letter to the White House imploring the president to heed the Democrat-led Congress' call for a pullout.

That same day, Mr. Reid railed against the war and U.S. military leaders in a conference call with a group of liberal bloggers.

And yesterday, he said the Pentagon's quarterly report on Iraq shows that President Bush's war strategy is not working.

The spate of antiwar activity by Mr. Reid follows a drop in the Senate leader's poll numbers and coincides with the start of the "Iraq summer" antiwar campaign. The Americans Against Escalation in Iraq — an umbrella group of liberal organizations including MoveOn.org and the Center for American Progress Action Fund — will target Republican lawmakers in 15 states "from Nevada to Maine."
That's packing quite a bit of surrender into not even a full week. Not only is he calling for our "loser troops" and his country to surrender in Iraq to Al Qaeda and other Islamic extremists, Reid is managing to surrender to the Nutroots base.
I wonder what he will do today?

Send a trackback to this post, but don't forget to link it.

If you liked my post, feel free to subscribe to my rss feeds.