I wonder if this would qualify as a "plan" in Liberal World
American and Iraqi forces posted north of Baghdad are preparing checkpoints to net any insurgents who flee Iraq's capital city to avoid an expected anti-terrorist dragnet there, a senior U.S. military officer told Pentagon reporters today.

"Because of the pressures in Baghdad, we believe that the threat forces will try to move to Saladin (province) and find safe havens and try to wait out the operations down in Baghdad," Army Col. Bryan Owens, commander of the 3rd Brigade Combat Team with headquarters in Tikrit, Iraq, told reporters here during a satellite-enabled news conference.
I suspect that those on the Left would not feel that there is any plan involved, and are probably rooting for the insurgents. However, it looks like a plan is there. It might be an outline, a deck, or maybe a full blown Powerpoint presentation. It may work, it may not. Time will tell. The thing is we can go with this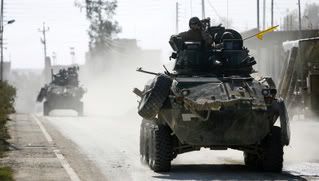 Or, we could send in the libs, otherwise known as the Fighting Dukaki, to surrender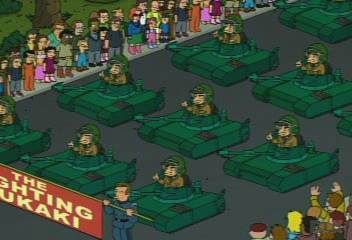 Which one do you want fighting for America?
Trackposted to Perri Nelson's Website, Right Celebrity, third world county, stikNstein… has no mercy, Big Dog's Weblog, Adam's Blog, basil's blog, Planck's Constant, Common Folk Using Common Sense, The Bullwinkle Blog, Dumb Ox Daily News, Conservative Cat, Jo's Cafe, Right Voices, and Conservative Thoughts, thanks to Linkfest Haven Deluxe.

If you liked my post, feel free to subscribe to my rss feeds.