I was actually visiting the parents from Wednesday, came back Saturday afternoon. It's a good thing I did. The plane was way late leaving Trenton due to thunderstorms, and I walked in to check my two tanks. Notice a little water around the edge of the 10 gallon, a nice Marineland with the day/night type light. Looked great. Moved it to look under, and saw a leak. Thought I could get away with it till Sunday, but, not, leak became worse and worse, had to put the fish in a tiny tank and put the other one outside.
I had only planned on getting a 20 gallon, but, this one is on sale at Petsmart for $78, 29 gallons.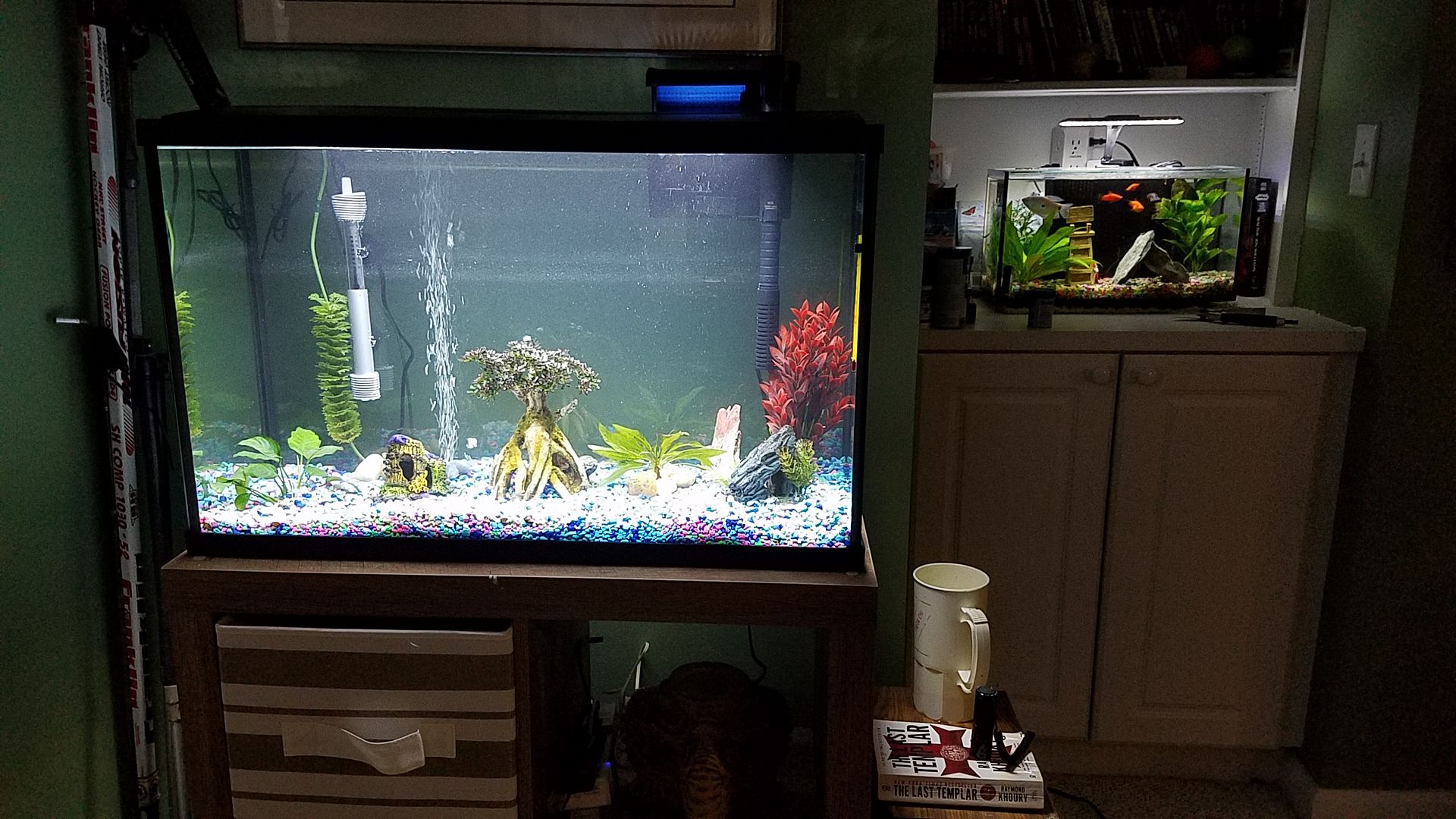 I went from 20 inches wide, 12 width, 12 height to 30x12x18. I like the width, didn't necessarily need it so high. To build one would have cost a whole lot more. Light covers are not cheap, add in about $38 for a 20 gallon wide tank, filter, wouldn't need another heater, though. Now I have to get a few bigger decorations, though I'll have to see how the plants grow. Also, a background. And I'll have to get a bunch more Fire Gouramis and Tiger Barbs, down to 2 and 3, respectability. My pleco, which had gotten a bit big for the 10, will love it. Only downside is there is no moonlight, and, perhaps it might be a little too bright. Of course, without tall decorations, the light doesn't get diffused much.
Have to move the painting above it up a bit.
I can't move the Blue Gourami from the small tank on the right, though. Only fish he gets along with are Mollies, especially the reddish/orange ones. The whole purpose of that tank was for that one fish, which chased all the others around. No nipping, just chasing. Petco has replaced the 6.6 gallon with a 6.8, it's a gorgeous tank for a shelf. You have to be reeeeealy careful with live plants, though, because they can foul the filters fast.

If you liked my post, feel free to subscribe to my rss feeds.