I know, I know, Warmists will deny the actual data, because their computer models and overwrought rhetoric are more important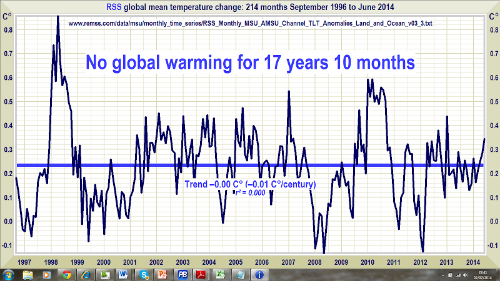 Via Climate Depot, here's Christopher Monckton
Taking the least-squares linear-regression trend on Remote Sensing Systems' satellite-based monthly global mean lower-troposphere temperature dataset, there has been no global warming – none at all – for 17 years 10 months. This is the longest continuous period without any warming in the global instrumental temperature record since the satellites first watched in 1979. It has endured for more than half the entire satellite temperature record. Yet the lengthening Pause coincides with a continuing, rapid increase in atmospheric CO2 concentration. (big snip)

The Pause is a growing embarrassment to those who had told us with "substantial confidence" that the science was settled and the debate over. Nature had other ideas. Though numerous more or less implausible excuses for the Pause are appearing in nervous reviewed journals, the possibility that the Pause is occurring because the computer models are simply wrong about the sensitivity of temperature to manmade greenhouse gases can no longer be dismissed.
Obviously, Warmists will deny this. They just cannot accept scientific data when it conflicts with their cultish beliefs.
My typical disclaimer: this does not disprove warming. The Earth is currently in a typical Holocene warm period. Well, actually, a low level warm period. What this does show is that the Warmists are mostly wrong in regards to the cause of the Modern Warm Period.

If you liked my post, feel free to subscribe to my rss feeds.