Does this have meaning over the long term? Maybe. Maybe not
(No Tricks Zone) Climate scientists on both sides of the debate agree on one thing: the earth's surface and atmosphere have (unexpectedly) stopped warming; there's been no temperature increase in over 17 years and counting.

While global warming scientists insist the pause is only temporary and that warming will resume in earnest sometime in the future (once the missing heat comes out of hiding), other scientists are very skeptical. Today a growing number of distinguished scientists all over the globe believe the earth will be cooling due to the forces of natural cycles that have recently come into play.

Yet as many scientists are making forecasts of cooling, there's one fact that seems to have escaped them: the datasets of the world's leading climate data institutes clearly show that planetary cooling is already taking place and has been happening for over a decade.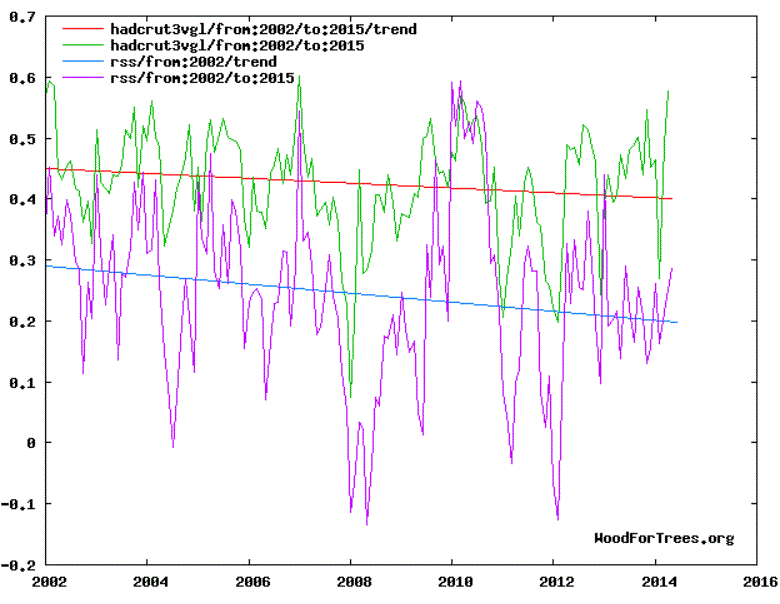 HADCRUT and RSS are the two main sources for global temperatures. HADCRUT is showing what would be considered a statistically insignificant decrease, while RSS, with a 0.1C decrease could be considered in the range of significant. Regardless, what happens now? Does a pattern similar to the 40's through the 70's occur, where the temperatures dip, with the media freaking out about a coming ice age? Do they simply flatline for an extended period? Do they start a march upwards, bringing the globe closer to the higher temps of the Medieval and Roman warm periods? Time will tell.
Many studies and scientists state that the Earth is in for a cooling period. Some go for the slight cooling, like during the 40's through 70's. Some are thinking more along the lines of a typical Holocene cool period. Some even think there could be a deep cooling, like during the Little Ice Age. Are any right? Time will tell. We can probably expect a spike in temps if El Nino sets up in the latter part of the year. I won't prognosticate what happens climate-wise, but I will predict that if cooling happens, it will be Blamed on mankind via "climate change".
Oh, and it must really suck when the Earth refuses to cooperate with your models of extreme doom from slight temperature increases, cause those increases are not happening.

If you liked my post, feel free to subscribe to my rss feeds.