Happy Friday to all! It's that time of the week again! Do you have an interesting post you want to share with everyone? The official Surrender Monkey of the Democratic Party says to do what the Lefties don't, since they all have the same talking points: link it!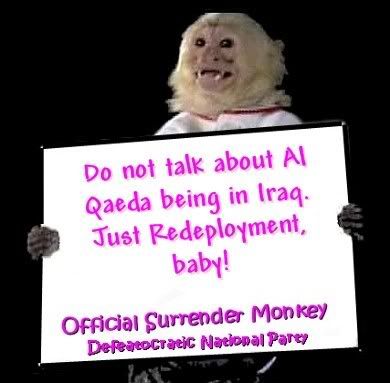 Yes, because Al Qaeda should not interfere with the Democrats and hard Left's plans to "redeploy" from Iraq
BAGHDAD, Iraq (CNN) — American soldiers discovered a girls school being built north of Baghdad had become an explosives-rigged "death trap," the U.S. military said Thursday.

The plot at the Huda Girls' school in Tarmiya was a "sophisticated and premeditated attempt to inflict massive casualties on our most innocent victims," military spokesman Maj. Gen. William Caldwell said.

The military suspects the plot was the work of al Qaeda, because of its nature and sophistication, Caldwell said in an interview with CNN's Wolf Blitzer.

The plot was uncovered Saturday, when troopers in the Salaheddin province found detonating wire across the street from the school. They picked up the wire and followed its trail, which led to the school. Once inside, they found an explosive-filled propane tank buried beneath the floor. There were artillery shells built into the ceiling and floor, and another propane tank was found, the military said.
If the Democrats had their way, this is the kind of chaos and animals that we would be leaving the Iraqi people to deal with. Scum that would turn a school for girls into a "death trap" and then explode it.
Furthermore, this shows the lengths to which the Islamic extremists will go to to influence the Democrats and their angry, hard left base, to attempt to get them to continue in their denigration of Operation Iraqi Freedom and anyone involved, as well as push for the United States to pull out of Iraq. Heck, AQ wants the US out of the Middle East completely. That was Bin Laden's original beef. Redeployment to anywhere in the Middle East will just bring AQ there.
Islamic extremists know that their cowardly actions influence the Democrats heavily. Every roadside bomb, every kidnapping, every soldier and/or civilian killed. Foment sectarian violence. You name it, they know that the Democrats will come down on the side of surrender.
Actions such as repealing the authorization for a war that we are already in (
Michelle Malkin)

Send a trackback to this post, but don't forget to link it.

If you liked my post, feel free to subscribe to my rss feeds.