The UK Guardian, a hotbed of leftist politics, thinks they have something in an article on "gun violence." They four authors, who probably did all their research online rather than heading into the actual dangerous areas, say that to fix it, you have to go local. And here's what we get
The map of America's gun violence epidemic can seem overwhelming. There were more than 13,000 gun homicides in the US in 2015, across nearly 3,500 cities and towns. But the toll of this gun violence was not distributed equally.

Half of America's gun homicides in 2015 were clustered in just 127 cities and towns, according to a new geographic analysis by the Guardian, even though they contain less than a quarter of the nation's population.

Even within those cities, violence is further concentrated in the tiny neighborhood areas that saw two or more gun homicide incidents in a single year.

Four and a half million Americans live in areas of these cities with the highest numbers of gun homicide, which are marked by intense poverty, low levels of education, and racial segregation. Geographically, these neighborhood areas are small: a total of about 1,200 neighborhood census tracts, which, laid side by side, would fit into an area just 42 miles wide by 42 miles long.

The problem they face is devastating. Though these neighborhood areas contain just 1.5% of the country's population, they saw 26% of America's total gun homicides.
I would highly recommend reading the entire article and viewing the accompanying graphics. Here's just one of them for illustration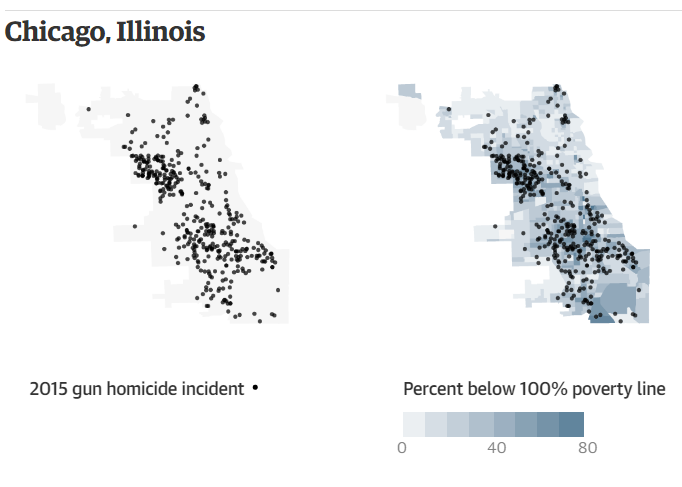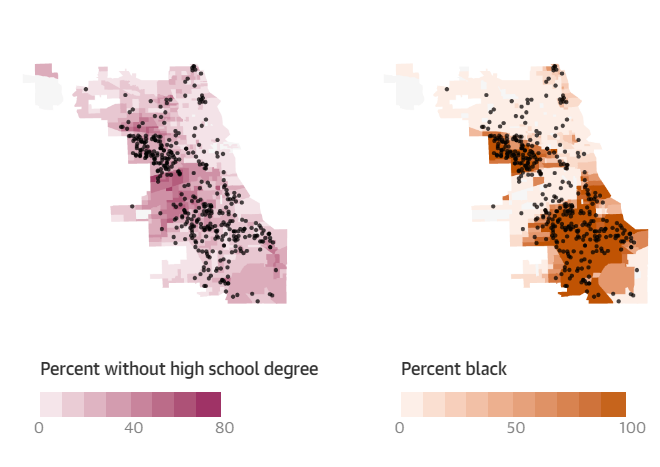 They highlight city after city, conveniently forgetting who runs the majority of these cities. That would be the Democratic Party. And the graphics show that the Democratic Party has left Blacks in poverty, low education, and violence.
BTW, the article itself is much better than the standard Guardian fare, well researched, attempting to take a somewhat unbiased view. Check it out.

If you liked my post, feel free to subscribe to my rss feeds.