Hey, I agree, they shouldn't use the phrase "gun control" in their name, they should change it to "law abiding people control". Alas, they plan on moving in a different direction
(Washington Post) What's in a name? A lot, if your name includes the term "gun control." So in a nod to the political realities of the moment, a group founded in the days after the Newtown, Conn., school shooting is officially changing its name by dropping the politically loaded term.

Moms Demand Action for Gun Sense in America is the new name for an organization formerly known as One Million Moms for Gun Control, the group's founder will announce Wednesday. The change was prompted by confusion with another group, One Million Moms, which advocates for family-friendly entertainment media — and because the group's old name includes the term "gun control."

"We've gotten a lot of feedback from stakeholders that 'gun control' isn't the best term to use because it can be polarizing," the group's founder, Shannon Watts, said in an interview Tuesday. "We don't want to be polarizing — we want to be a nonpartisan organization. We're not about overturning the Second Amendment or banning guns, but we also don't believe that we should arm every citizen."
Well, guess what, honey, whether I, as a law abiding citizen, want to be armed is none of your business. And pretty much everything the group is pushing is a reiteration of Democrat policies, none of which will keep guns out of the hands of criminals, but will treat law abiding citizens practicing their 2nd Amendment Right to be treated as criminals.
And, perusing the Moms website, sure looks like quite a few Leftists.
Back in December, Doug Ross had a few choice words for Ms. Watts, who thinks our Constitution is antiquated, a rather Liberal notion. Fortunately, she is really non-partisan. She certainly wouldn't give money only to Dems, right?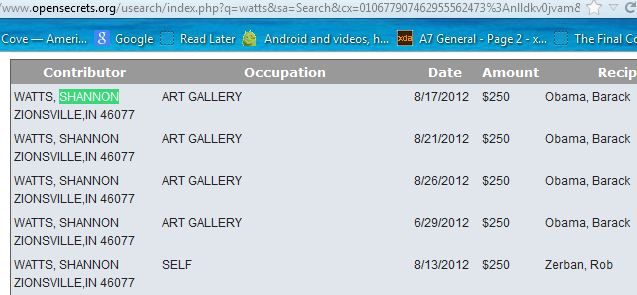 Now, I could possibly maybe have the wrong Shannon Watts. Except for the LinkedIn profile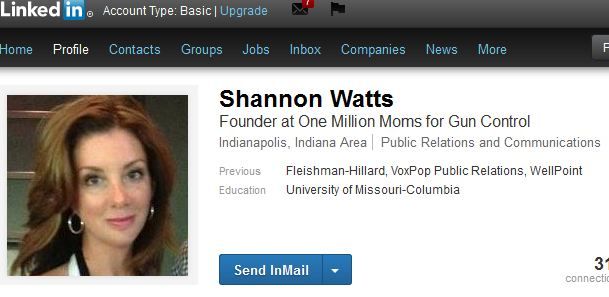 Notice in the 1st screengrab the "Fleishman-Hillard", which that Shannon Watts in Zionsville, In. Like the rest. Quite possibly an astroturfed Democrat group. At best, simply Democrats pretending to be "non-partisan".
BTW, lots of other gun control groups mentioned in the Washington Post article are backing away from using the phrase "gun control".

If you liked my post, feel free to subscribe to my rss feeds.